Hermosa Highlands, Cerro Fresco, Central Pacific Coastline, Costa Rica
By Brooke Goranson
There I was bumping along on a winding dirt road up into the highlands of Hermosa Beach. My friend and Re-Max Agent, Hannah Fletcher, was off to view a new listing. She grabbed my interest when she said the ocean views were beyond stunning. I grew up in a home overlooking the Santa Monica bay so not only do I love ocean views but I was sure my childhood ocean views would easily rival these. So I jumped in her truck and off we went, down the coastline and up the mountain. Up, up we went passing through a lush, green rain forest setting. If I listened closely enough, I could hear and then see monkeys swinging from tree to tree and brilliant Macaws playfully sailing along the blue skyline above.
I must confess I wondered how we could ever be traveling to a place where someone actually lived but then the road flattened out and there it stood; a beautifully designed home that would rival anything seen in the States. As I exited the truck and turned in a circle I was in awe of what I was seeing. The ocean views were at nearly every side of me. And the distant I could see up and down the coastline went for miles.
Luxury Hermosa Hills Ocean View Home
Price:

| | |
| --- | --- |
| 849,000 USD | |

For Sale/Rent:

For Sale

Property Type:

House

Listing Status:

Active

Total SqM
250
Lot Size (m2)
1,000.00
Year Built
2009

| | |
| --- | --- |
| | 8 |

| | |
| --- | --- |
| | 3 |

| | |
| --- | --- |
| | 3 |

| | |
| --- | --- |
| | 2 |
The builder of this lovely tutor style home, took full advantage of these magnificent views. As we entered the main level of the home all walls were glass. From the modern kitchen to the tile deck that surrounded the living and dining area, all you could see was ocean, ocean, ocean. Complimenting this was a swimming pool also looking out over the ocean and a lower level bedroom area where all 3 bedrooms maintained a stunning ocean view. The home occupied a double lot covered with many colorful flowers, tropical plants, fruit trees as well as trails and even a picnic area.
I must admit, I started this adventure a bit skeptical but the Hermosa Highlands and their incredible ocean views have made a believer out of me. I believe I have just experienced the most incredible ocean views ever seen in my life time and I found them at the top of a bumpy dirt road in the Highlands of Hermosa Beach, Costa Rica.
Contact Hannah Fletcher at the REMAX Oceanside Realty Jaco Beach office in Costa Rica for your luxury real estate needs.
Other luxury properties for sale in Hermosa Hills, Costa Rica:
JACO OCEAN VIEW MOUNTAIN & BEACH HOUSE
Price:

| | |
| --- | --- |
| 170,000 USD | |

For Sale/Rent:

For Sale

Property Type:

House

Listing Status:

Active

Total SqM
196
Lot Size (m2)
0.00
Year Built
2008

| | |
| --- | --- |
| | 8 |

| | |
| --- | --- |
| | 3 |

| | |
| --- | --- |
| | 3 |
Ocean view highland luxury home
Price:

| | |
| --- | --- |
| 439,000 USD | |

For Sale/Rent:

For Sale

Property Type:

Country Home

Listing Status:

Active

Total SqM
221
Lot Size (m2)
1,000.20
Year Built
2009

| | |
| --- | --- |
| | 9 |

| | |
| --- | --- |
| | 3 |

| | |
| --- | --- |
| | 1 |

| | |
| --- | --- |
| | 3 |

| | |
| --- | --- |
| | 2 |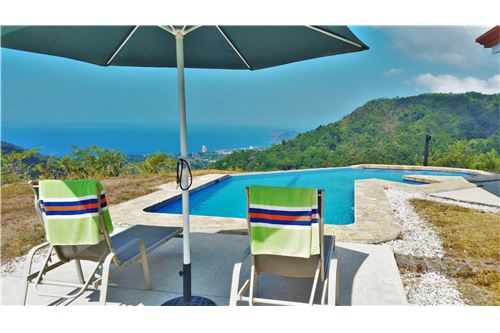 Price:

| | |
| --- | --- |
| 695,000 USD | |

For Sale/Rent:

For Sale

Property Type:

House

Listing Status:

Active

Total SqM
320
Lot Size (m2)
4.00
Built Area (m²)
320

| | |
| --- | --- |
| | 6 |

| | |
| --- | --- |
| | 2 |

| | |
| --- | --- |
| | 2 |

| | |
| --- | --- |
| | 2 |